Luxe Lashes, No Rx Required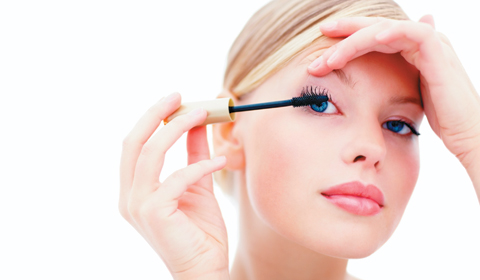 Not exactly batting a thousand when it comes to your lashes? Fear not: thickening-mascara spider eyes and pricey single-lash extensions aren't your only alternatives. Now there are options galore for taking matters into your own hands and growing them long and lovely.
Celebs like Brooke Shields and Claire Danes don't let anyone come between them and their Latisse, the first and only FDA-approved prescription treatment for growing longer, fuller, and darker lashes. But not all of us have our derms on speed dial (or $120 in our pockets to spend on the latest beauty craze). Still others are scared off by the potential side effects of Latisse's main ingredient, bimatoprost, which may cause darkened skin and irises. And so began the eye-popping onslaught of over-the-counter lash enhancers.
From high-end players like Peter Thomas Roth and Trish McEvoy to drugstore beauty addicts' faves like Wet n Wild and L'Oréal Paris, dozens of companies are debuting lash enhancers, often promising results within four to eight weeks of nightly usage. Even Whole Foods, not usually known for glamour gear, will be carrying an all-natural lash enhancer starting this April. (MyChelle's Lash & Brow Serum)
"Boston has been lash crazy for many years now, using both OTC and prescription lash enhancers," says Dr. Ioannis P. Glavas, an oculofacial plastic surgeon known as "Boston's eyelid specialist." From his Newbury Street office, he writes about five Latisse scripts weekly.
The eye-opening question: can something you get at a beauty shop create the same effect as doctor-sanctioned meds? Some say yes, others no. If you want to give them a try, there are few things to know about OTC lash builders.
Eyes on the Prize
Pretty packaging can't change what's in (or not in) a formula. When choosing a lash enhancer, read the ingredient list. Look for polypeptides, proteins, minerals, and vitamins.
"Biotin is vitamin B, which is known for its effectiveness on the nails and hair," says Dr. Glavas. "It has been used successfully in treating hair loss when someone has vitamin deficiency." He also recognizes peptides as promoters of healthy cell growth. "They promote growth and longevity of cultured human fibroblasts [as] proven in clinical studies."
The recent onslaught of Latisse commercials may make it easy to forget, but the quest for luxe lashes is nothing new: more than 5000 years ago, the ancient Egyptians were using kohl to darken their lashes. Fortunately, we've progressed a bit beyond formulations made from charcoal and crocodile dung — you know that there's a bevy of new OTC lash enhancers arriving on shelves near you. Here's one more product pick that promises to have you batting a thousand in no time.
MyChelle's Ultimate Lash & Brow Serum:
With unique, clinically proven breakthrough peptides and nourishing botanical conditioners, Ultimate Lash and Brow Serum naturally improves the appearance of lash length, darkness and volume to make eyelashes look noticeably longer, lusher and lovelier than ever before.
Our proprietary Myracle Peptide Complex combines cutting edge peptide technology with restorative Apple Fruit Stem Cells to promote healthy lash and brow formation and protect hair follicles. Moisturizing Cactus Flower banishes brittleness while a synergistic blend of phytonutrients improves the strength and density of lashes and inhibits hair loss.

Lash enhancement is now one of the fastest growing categories in beauty and personal care. As part of their interest in age defense, customers are actively seeking new solutions for thinning brows and sparse, brittle or stubby lashes. Ultimate Lash and Brow Serum delivers proven, dramatic results without prescriptions, irritation or unwanted side effects.
Myristoyl Pentapeptide-17 (Myracle Peptide Complex) stimulates production of keratin, the proteins that form eyebrows and lashes. In clinical trials, it increased eyelash length and thickness by 25% in only 2 weeks and 72% after 6 weeks.

Apple Fruit Stem Cells (Myracle Peptide Complex) stimulate and protect hair stem cells, supporting hair growth and inhibiting graying.

Copper Peptides (Myracle Peptide Complex) increase the flow of blood and nutrients to the follicle and help extend hair's growth phase.

Tricholastyl(tm), a blend of healing flavonoids, inhibits the damaging glycation reaction that ages hair follicles and actively helps reduce hair loss.

Anageline(r), from the lupine plant, improves follicle thickness and prevents hair loss.
Apply once daily to base of upper lashes (where eyelashes meet skin) from the inner corner to the outer edge. Apply to eye brow area. Do not apply in eye or to lower lid.